Everybody pretty much agrees that Sofia is a culinary desert. And it is indeed. But recently things have been improving quite a bit. Interesting places open, with cool interior and sometimes the food becomes almost edible in some of them. To be fair: pretty good occasionally. One of those is the "Kato" right in the center.
It has a bar and a resto section, both very stylish and filled with attentive staff. The place is modern chique and expensive for Bulgarian standards, but perfectly worth it. Expect to pay 60 Euro for a full set including starters, mains, a dessert, coffee, and a drink.
The menu is not as crammed as is most Bulgarian restaurants and the the cuisine is tilted towards Asianized dishes. Rather rare here. There are also some non Asian favorites like the lamb cutlets.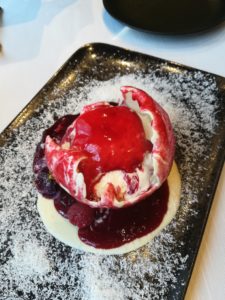 Nothing in this world is perfect and so the marinated salmon was burned on the lower side. There is a bit room for improvement. This is also true for the "white chocolate pearl" dessert which is all looks but not too much substance. Tastes may differ though. But these are minor complaints.
We enjoyed having lunch there. The mood is rather quiet – at least at *our* lunch time – and very pleasant. Also, this is a good place to show a fancy new dress or leisure suit.